Lead made in Nidderdale has decorated the finest buildings and gardens since Roman times.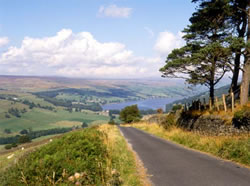 Nidderdale Lead recreates this ancient tradition from our workshop in the heart of North Yorkshire, England, UK where we produce the highest quality handmade lead garden ornaments. All of our leadwork is traditionally hand made in England from start to finish by a small team of highly skilled craftsmen, using techniques that have scarcely changed over the years. A great deal of time, skill and care is taken when making our lead garden ornaments. We are very proud of our work and want it to be enjoyed by all.
We have a wide range of garden leadwork in our range including, lead planters, lead fountains, lead cisterns, lead spouts and more to suit most locations. We appreciate we may not have just what you are looking for, which is why we offer a full bespoke "custom made" service, from a unique lead planter to fit an awkward corner to a custom built lead water feature, there is virtually no end to lead´s possibilities.
All our garden leadwork is frost proof and will survive the harshest of conditions gaining in beauty from season to season as they age. Indeed much of the ornamental lead work that decorated the finest gardens during the Georgian and Victorian times is still in existence to this day, which is a fine testament to leads durability.
All items are made to order, so lead times can vary, please contact us first to discuss timescales for larger orders.